09/03/2018
Posted by:

Hostify Support

Category:

Financial Planning, insurance, life insurance, Personal Injury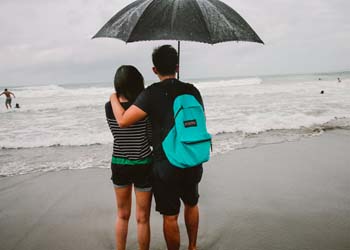 Want to protect the foundation you're building together? Consider the different types of life insurance.
There are many paths you can take through life as a young committed couple, but one thing is likely: your financial lives will be forever intertwined. With or without kids, most couples can expect a few major expenses throughout their lives including weddings, mortgages and vacations.
It's all worth it, but you don't want to find yourself unable to pay it all off. With the right life insurance policy, you can protect yourself and your partner from unexpected financial hardship.
Why it might be a good time to get life insurance
Life insurance is designed to help individuals and families maintain financial stability in the face of injury, illness or death. That means it is always a good time to get life insurance; even young singles would feel financial pressure if they suddenly couldn't work.
However, it's even more important for young couples who depend on each other to keep the wheels turning. With life insurance, you'll be able to protect yourself and your significant other if injury, illness or death threatens your financial future.
Types of policies relevant to young couples
Here are the types of life insurance policies young couples can consider. You can choose any combination that suits you, even if you only choose one:
Term life insurance. Provides a lump-sum payment to your beneficiary when you die or in some cases are expected to die within 24 months.
Trauma insurance. Provides a lump-sum payment if you suffer a critical illness such as a heart attack, cancer or stroke.
Total permanent disability (TPD) insurance. Provides a lump-sum payment if you have suffered an illness or injury that leaves you permanently unable to work.
Income protection insurance. Provides an ongoing monthly payment to replace your income if illness or injury keeps you from working.
Business expense insurance. Provides an ongoing monthly payment to help keep your business running if you are ill or injured.
What do these policies have in common?
Each policy above has the ultimate goal of helping you and your family maintain financial stability after a crisis. They have many things in common:
The money is yours. With the exception of business expense insurance, you or your loved ones can use the money however you want. The idea is to allow you to overcome financial hardship in your own way rather than to tell you how to use the money.
You can choose the amount. In most cases you can choose the amount you're covered for, up to a maximum amount set by the insurer. Remember: the higher the sum, the higher the premium.
Terms and conditions are important. Your policy will contain conditions and limitations that affect whether a life event is covered. Make sure you fully understand the wording in your policy and be prepared to provide the right documentation if you're ready to claim.
Does life insurance kick in if either of us is injured or die?
Not necessarily. If you want to insure against each person's injury, illness or death, you'll each need to have your own relevant policies.
The benefit to this is that you can tailor your coverage to your exact circumstances. For example, maybe you only need term life insurance for the main breadwinner, but you'd like to have funeral insurance for both of you.
Even though you're buying "individual" policies, some insurers will offer you a discount if you and your partner purchase yours together.
What are some situations for using life insurance?
In most cases, you can use your life insurance payout for anything you want. You can even spend it all on lottery tickets, although that's probably a bad idea!
In the spirit of helping you get back on your feet after a crisis, here are some common ways a young couple or the surviving partner might use the benefits:
Funeral expenses. If one of you dies, the surviving partner can provide a proper burial without going into further debt.
Bills. You or the surviving partner will have the funds to continue paying everything from your mortgage to your credit card bills to any debt incurred as a result of the crisis.
Living costs. You or the surviving partner will have the funds to pay for everyday expenses like groceries and fuel.
Rehab expenses. You'll have the money to pay for additional rehab that your health insurance or Medicare would not cover.
Home and lifestyle modifications. You can afford to make any home or lifestyle adjustments made necessary by illness or injury. This can include hiring a carer or installing a wheelchair ramp.
Comfort purchases. Maybe you or the surviving partner just need a healthy distraction. You can use your payout towards a holiday or anything else that makes you happy.
Is life insurance just for married couples?
Life insurance is not just for married couples. It is for people whose finances would be disrupted in the event of a crisis.
If you are a couple whose finances are intertwined, you fit that description whether you are married or not. After all, you don't need a marriage licence to get a mortgage together, go into debt together or pay bills together.
What are the benefits of buying life insurance when you are younger?
It's tempting to assume life insurance is something you only need if you have kids, or that it is something to put off until later. However, there are plenty of great reasons life insurance makes sense for young couples.
Here are some reasons why you should start thinking about it now:
Easier to get cover. It's easier to get cover while you are young and healthy. Age-related ailments like high cholesterol or diabetes might limit your options for cover or cause your premiums to increase.
It's cheaper. Life insurance is cheaper for young, healthy people. Your premiums will increase as you age, but getting covered now may help you maintain a lower overall rate (e.g. if you get a levelled premium)
It's flexible. You can start with a basic plan and easily upgrade as your life situation changes.
Tax benefits. If your life insurance policy includes income protection insurance, you may be able to claim the cost of that portion as a deduction on your taxes.
It protects your lifestyle. Regardless of your life stage, you probably don't want to downgrade your lifestyle should the unexpected happen. Life insurance allows you and/or your loved ones to cope with unexpected challenges without creating a host of new hassles.
Make a complimentary appointment
Cheers,
Nick